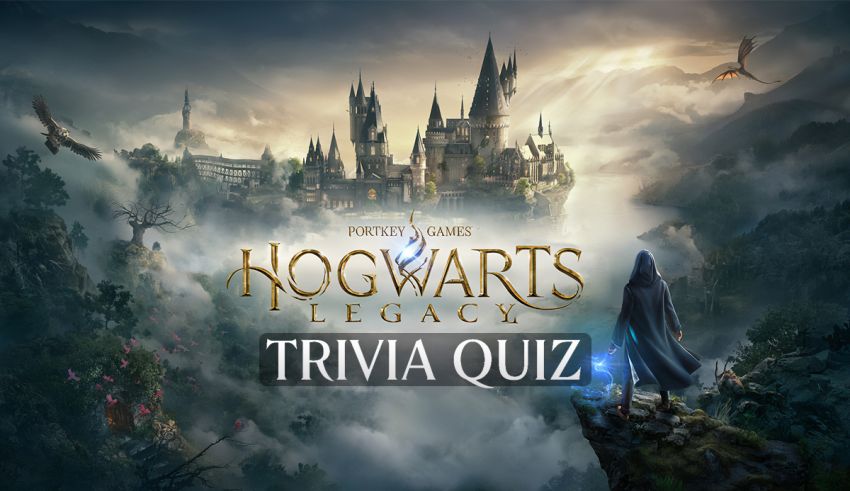 With the Hogwarts Legacy Quiz, you get your knowledge about the game tested and receive your witch or wizard rank.
Hogwarts Legacy Quiz Explained
Comprised of 20 trivia questions, the Hogwarts Legacy Quiz determines how well you know the game. It differs from the actual trivia in the game and comes with unique gameplay and story questions.
For those unfamiliar, Hogwarts Legacy is an Action-RPG game by Avalanche Software inspired by the Harry Potter series. The game replicates the experience of becoming a wizarding world student and learning magical spells while fighting beasts and evil creatures.
With the current quiz, however, you get to see how much you know about this game—and how advanced of a player you've become.
Here are some example questions that you may find in the Hogwarts Legacy Test.
| | |
| --- | --- |
| Trivia | Difficulty |
| Who created the original Pepperup Potion? | Easy |
| How many professors are in Hogwarts Legacy? | Normal |
| Who killed Emeric the Evil? | Hard |
What Do Your Scores Mean?
A cool thing about the Hogwarts Legacy Quiz is that it gives you a score. By the end of the test, you realize how good of a student you have been and how bright your future might be as a witch or wizard. But what do these scores mean? Here's a quick guide.
0-9 points: Novice Student
Scoring below 10 points is disappointing. It means you don't know much about Hogwarts Legacy and have much to explore.
10-16 points: Spell Grinder
A score between 10 to 16 is meh. It means that you're not a pro-Hogwarts Legacy player. But you know enough about spells and potions to survive.
17-19 points: Hogwarts Oldie
Answering 17 to 19 questions correctly is quite impressive. It means that you're a seasoned Hogwarts student who knows about Harry Potter wands, mythical creatures, and top-secret details in the game.
20 points: Perfect Sorcerer
Only a true witch or wizard can get a perfect score on the Hogwarts Legacy Quiz. And if you did get that, you're a legend. Basically, you're like one of the main characters in Harry Potter movies.
Ready to Test Your Hogwarts Legacy Knowledge?
Players have a ton of secrets and easter eggs to discover in the Hogwarts Legacy's open-world map. But the question is, how much have you discovered so far?
We dare you to take the Hogwarts Legacy Quiz to see if you're a professor-level player or just a newbie student.
Hit the start button, and let's cast some spells.
Disclaimer
QuizExpo does not own any of the images on the Hogwarts Legacy Quiz and intends no copyright infringement. Warner Bros. Gaming owns the said pictures.
How to Play?
A trivia quiz comes with right and wrong answers. You receive one point for each correct response—but no negatives for the incorrect ones. Take your time and read the questions carefully because some might be trick questions. Choose an option and lock it in by tapping "Next." Lucky for you, the trivia quizzes have instant results. You see if your response was correct immediately. (Green is good, red is bad.) Even better, you can learn more about the topics with the "answer reveals," the fun-fact snippets that appear after each question.
Questions of the quiz
1

What does the Wiggenweld Potion do?

Heals you

Shields you

Buffs you

None

2

What about Maxima? What does it do?

Maximizes health

Maximizes spells' durations

Maximizes spells' damage

None of them

3

How does the Edurus Potion affect its drinker?

Buffs their defense

Buffs their attack

Debuffs their enemy

None of them

4

How long does it take to brew Thunderbrew?

30 seconds

1 minute

1 minute and 30 seconds

2 minutes

5

Which one does not go into the Focus Potion?

Lacewing Flies

Horklump Juice

Fluxweed Stem

6

Which one should you NOT add to the Maxima Potion?

Ashwinder Eggs

Leech Juice

Spider Fang

7

Which Potion reveals the location of large loot boxes on the mini-map?

8

In Hogwarts Legacy, you can play snowball with snowmen and melt them. Fact or fiction?

9

You put Horklump Juice and Dittany Leaves in a pot. What's the result?

Focus

Wiggenweld

Thunderbrew

Maxima

None

10

What is the Alohomora spell used for?

Lighting dark rooms

Finding your path

Unlocking locks

None of them

11

Who teaches you the Alohomora spell?

Professor Howin

Professor Onai

Professor Fig

Professor Ronen

Professor Moon

12

How many Dmiguise Moon statues do you need to upgrade the Alohomora spell to level 3?

13

Can you visit Hogwarts' kitchen in the game?

14

A dragon may randomly spawn in the sky. Fact or fiction?

15

There's a candy in the game that makes you float. Fact or fiction?

16

You can never strip your character down to their underclothes. True or false?

17

The "Follow the Butterflies" side quest is a nod to which Harry Potter character?

Harry Potter

Ron Weasley

Hermione Granger

18

In what year does the story of Hogwarts Legacy take place?

19

Felix Felicis is also known as _______.

Liquid Luck

Luck Unlocker

Lucky Potion

None

20

Can you change species with Polyjuice Potions?