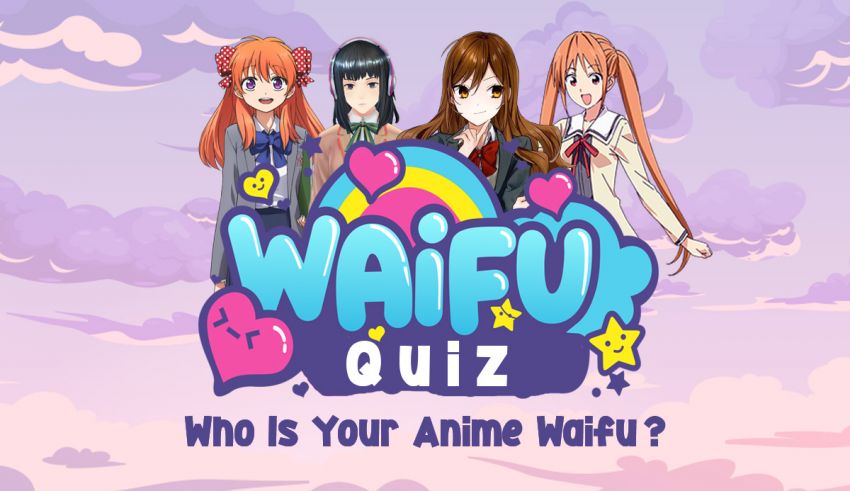 This fun Waifu Quiz is going to reveal your fictional anime character with 20 simple personality questions. Let's find the waifu you are going to date with!!
This test is not for the faint-hearted because it is about one of the most powerful mystical beings. They make your jaw drop, and your eyes pop open. Their secret superpower is to make them fall in love with their twisted character. Yet, you can't have these irresistible muses in real life. Yes, we are talking about the cute Japanese anime characters that everybody has a crush on, your very mysterious waifus.
The fantastic 4
Some of these fictional goddesses are wild and rebellious such as Yuuki Asuna from Sword Art Online; some are innocent and timid, like Emilia from Re: Zero, even though they are going through a lot of trouble. In the Waifu test, we focus on four of the most popular female characters that would make fantastic waifu nominees. First, there is Yuuki Asanu from Sword Art Online; Second, Touka Kirishima from the Tokyo Ghoul; Third, Lucy Heartfilia from the Fairytale Guild; and last but not least, Emilia from Re: Zero.
Why take the Waifu Quiz?
Depending on your gender and sexual preference, the results can be interpreted differently:
Gentlemen: Build your own waifu!
Wouldn't it be cool if you could build your own waifu? Take a journey to the land of fantasies to discover which fictional princess is closest to your dream partner.
Ladies: Are you a Waifu?
Consider this quiz as the Are you a waifu quiz. Which mystical powers suit you best? How strong are you in battles and stealing the hearts of young princes?
Emilia from Re: Zero
Emilia is a gorgeous girl with long wavy silver hair that stretched to her back. She's got eyes that glow with wisdom and passion. She also has half-elf blood which is recognizable when you look at her elvish ears. Emilia is a charming enchantress for those who likewise and bashful waifus.
Being one of the critical characters in a dark Japanese novel might suggest that Emilia will have some menacing powers unleashed upon enemies and even friends; nevertheless, she always stays calm and turns hardships into self-inflicted agony. She is the acumen innocent spirit that protects others and is willing to sacrifice even her own sanity to save others.
Comparison to Greek archetypes
You can also regard Emilia as a Japanese anime version of the Greek goddess Persephone. The characters tend to have a knack for getting in trouble for trusting people and being overly optimistic. However, they will master how to overcome chaos and become the queen of the abyss.
Touka Kirishima from Tokyo Ghoul
Touka is a Ghoul that is both beautiful and wise. She possesses an Immense amount of power, but her most significant strength is her mind. She uses her wisdom to save ghouls from ghoul investigators. This trait persists early in the show, where she protects Kaneki from inflicting harm on himself and others. Touka or the rabbit is considerate and knows how to get her feelings under control. Although she doesn't mean to harm anyone, you don't want to mess with this girl, or you'll get your heap chopped off.
Touka has short dark hair; She's pretty short and slender, yet her strong attitude makes up for her fragile body. Her clothes also signify a subtle style that reflects her intellectual persona more than anything else.
Comparison to Greek archetypes
Touka, the smart waifu, can be considered an equivalent of the Greek Athena, goddess of wisdom. She, too, is a strong person who relies on mental strength, has control over emotions, and is a loyal and protective friend and lover.
Lucy Heartfilia from Fairytale Guild
Lucy Heartfilia is a mage from the Fairytale Guild. Beauty is her secret power as she changes clothes in a jaw-dropping fashion, according to fans. She's an adventure seeker who is not afraid of challenges and enjoys a bit of show-off now and then.
Lucy Heartfilia is a tall blond Waifu whose witchcraft extends spells and mystic powers, as she is undeniably hot. Her confidence in her sex appeal is persistent in the show.
Comparison to Greek archetypes
We can say that Lucy is the anime version of Aphrodite, the goddess of love and lust. These girls are both the hottest in their reign and will eliminate their rivals in any beauty contest. They can lure men into deadly traps and never reveal their true intentions. Despite their viciousness, they are fun companions to have and great lovers.
Yuuki Asuna from Sword Art Online
Yuuki Asuna is a worldwide crush to many teens and boomers. She's got the heart of a lioness, and her bravery is unparalleled. Asuna is not afraid to take on challenges, and she hates to be undermined by others.
Asuna has straight brown hair and hazel eyes. Some like her better with the Knights of blood uniform; others love her in the leather pants and red tunic as she appears more earthly.
When it comes to relationships, Asuna is loyal to her love, Kirito, in the entire story and threatens to commit suicide when Kirito wants to put himself in a life-threatening situation.
Comparison to Greek archetypes
If she were to be compared to Greek female archetypes, she resembles the goddess Arthemisia the most. They are valiantly bold young women who fear nothing but failure, and they never turn their back on any challenge. The anime character is an angel of death to the adversary, yet a passionate, empathic friend to the weak.
The Waifu test
The test asks questions about your personality and those traits you would like your partner to have. Would you like to be a strong, confident man in an affair with a supermodel mage, or are you a wise girl who's a strong, loyal lover who protects friends and loved ones with all she has?
In this quiz, we invite you to answer 20 questions about your preference to determine which of the four characters mentioned above will be your dream waifu if you're a guy. Alternatively, if you're a girl, this quiz can tell you whether you are waifu material; if yes, who would your anime character resemble among these girls. Without further ado, let's jump into the test and enjoy a bit of fantasy.
How to Play?
Playing personality quizzes is straightforward: Choose the option that's true about you—or you relate to—and select "Next." Unlike trivia quizzes, personality tests have no right or wrong answers. But the questions are in forced-choice format. The point is to push you to choose an option that makes the most sense, not the one that's 100% true. For the most accurate results, don't overthink your responses. Go with options that you "feel" are the best.
How many questions does this quiz have?
20 questions
How long does it take to complete this quiz?
5 minutes
Questions of the quiz
Question 1

Which one is closest to your current occupation?

The boss

a playboy/model

a warrior

financially broke

Question 2

Pick a bird that you like the most.

Question 3

What would be your super-weapon if you were a hero?

sword of justice

blazing whip

a set of blades

magic wand

Question 4

Where would you live?

skyscraper penthouse

in a moving castle

a secret fortress in the mountains

a mystical forest

Question 5

Which genre of movies is your favorite?

detective movies

romance

action

drama

Question 6

I would like to team up with ...

the professionals

my admirers

the opressed

strangers

Question 7

Which one would you choose as a job?

accountant

model

lawyer

fortune teller

Question 8

Pick you favorite hair style

Question 9

pick your favorite eye color

Question 10

On a weekend, you would more likely...

visit a museum

chill on the beach

go mountain biking

play video games

Question 11

Your Friend tells you that she needs a job, what would you recommend?

Work for a large company that pays well

Get a rich boyfriend, who needs work?

Get a job that helps the society

yay! work is fun! you're gonna make it

Question 12

Your boyfriend is late on a date what would you say to him?

Do not ever do it again

I'm not talking to you unless you buy be precious gifts

I'm gonna kill you

uh, it's ok, I'm just glad you're here darling!

Question 13

As a boy, you would marry a girl who is ...

smart and loyal

sassy and fun

also my best friend

cute but crazy sometimes

Question 14

The best thing to do with your partner when you're alone is ...

talking about the real world

taking Snapchat photos

dancing in the dark

planning about our future

Question 15

where would you like to kiss your crush for the first time?

in his/ her place

in front of the cameras

wherever we feel the magic

in a flower garden

Question 16

What do you think of touka?

Her intelligence and confidence is sexy

She Should wear hot clothes more often

She's a great fighter and teammate

She's so nice and lovely

Question 17

What is your opinion about Lucy?

She's too cheesy and selfish

OMG! I have a crush on her!

She is an insult to strong women

I don't know if she likes me, but I like her

Question 18

What do you think about Yuuki?

I respect her values and strenght

She's so hot when she fights

We would get into a lot of fights together

sometimes she scares me

Question 19

What do you think of Emilia

She shouldn't put others before herself

I would want to make her blush

I won't let anyone hurt her

She's the most powerful girl i've known

Question 20

Finally, which character would you pick as your waifu?