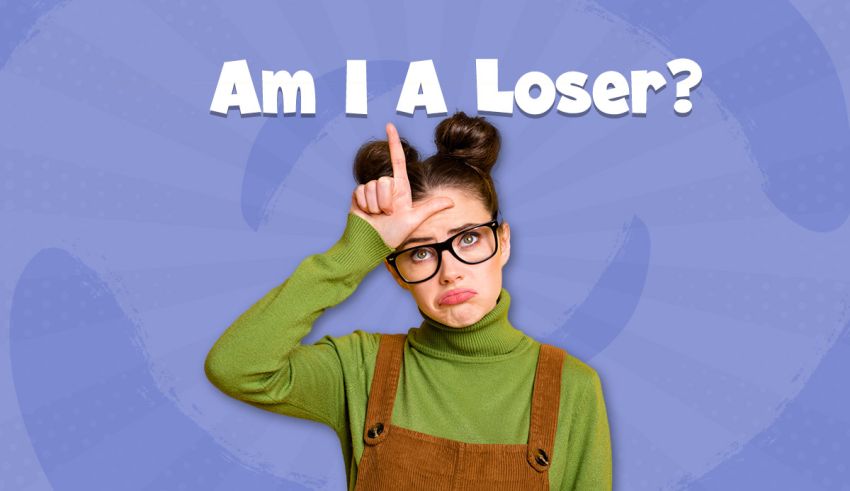 Are you self-questioning, "Am I a loser?" This 20-question life-changing quiz has the answer. Find out if you're stuck with the loser mentality in less than 3 minutes.
Short Answer: NO
You are not a loser for living with your parents, being single, not going to college, or having a 9-to-5 job. Not matching society standards does not make anyone a loser. It only indicates you have chosen a different path for your life.
You usually feel like you're a loser after failures. But remember, failure is not the opposite of success; it's a part of it.
If you can't stop overthinking, take our quiz. It's designed to prove you're not a loser and you can change for the better.
Winners of This Test Are Losers!
You're here because you asked, "Am I a loser?" But life is a wonderland of paradoxical events. If you win the test on this page, you're a loser. So, it might be the only test in your life that you'd like to fail at.
The Loser Quiz is a set of twenty challenging questions. The goal is to identify if you are stuck with the failure mindset. But the results offer more insight into your personality and traits as well. Here's everything you learn by filling out the questionnaire.
Exploring the signs of loser mentality in life.
Ask any winner in life how they succeeded, and they'll tell you it started with the right mindset. People often wonder if they're a loser because they can't let go of the images of their failures. They tend to repeat the off parts of their memories and expect them to happen again.
The quiz looks for the mental symptoms of such a belief system. We want to ensure your defeats do not trap you.
Determining why you might be a loser.
What if the answer is "yes" and you're a loser? Should you mourn, or should you look for a solution? The latter sounds like a better option. And that's why the test gives you the reason behind the result. Spoiler: it's because you THINK you're a failure.
Giving you a free personality analysis.
When you ask, "Am I a loser?" the answer is not a simple yes or no. The question itself reveals so much information about your character. So, you'll receive a comprehensive personality breakdown of your results, helping you get to know yourself even better.
Why You Should Stop Asking, "Am I a Loser?"
Yes, we created a test to answer that question. But we deeply believe that people should stop overthinking their success. Life is much more complicated than that. You cannot look into one's CV, university degrees, or bank account to determine if they're not a loser.
Life is not one race.
When one asks, "Am I a loser?" the answer is never a definite yes or no. That's because you might be a winner in a specific part of life and a loser in the other. Imagine you're an excellent mother, and you decided to spend your time with your child rather than focusing on your career. Does that make you a failure? Of course, not. You chose to let go of one of the races in life to win another. And it happens all the time to all of us.
Everyone is a loser.
You can't win everything in life. So, you can't lose everything either. Even the most successful people on earth have experienced significant failures at some point in their lives. Defeats are inevitable. And, therefore, all of us face them sooner or later. Today's winners might be tomorrow's losers. So, stop stressing over life's natural flow because no one can stop or change it.
There's always another race to win.
Another reason you should stop asking, "Am I a loser?" is the endless opportunities you have. Even if you are defeated in certain aspects of life, there're still millions of other things to do. It's not a single competition. Life is more of a course of constant daily races that offer an equal chance to everyone to win, at least some of them.
How to Replace Loser Mindset with Winner Mentality
You can end questions like am I a loser by improving your belief system. It always starts in your mind. But you have to work hard to manifest your thoughts in real life. Here're simple things you can do to think like a successful person.
Say no to things you don't like.
Agreeing to whatever others suggest makes you feel like you're a loser. Others might misuse your kindness and abuse your time and energy to achieve their goals—simply because you say yes to anything they request. If you want to change your mentality, stop agreeing to things you don't want to be a part of.
Don't make your life about others.
Putting others' needs before your own might be the actual reason you ask things like, "Am I a loser?" Remember, your priority is yourself. And you're not obligated to make others' lives better by sacrificing your time and energy.
Don't blame yourself for what others do.
Feeling guilty all the time makes you feel like you're a failure. To change your mindset, you need to acknowledge that you're not responsible for everything that happens in life. It doesn't mean you should ignore others' emotions. It's just that you don't have to blame yourself for every single one of them.
Don't seek others' approval.
Even when you ask an innocent question like, "Am I a loser?" you're seeking someone's approval. Right now, you want this test to tell you if you are one or not. The mindset of success starts where you stop looking for validations and do what you want to do instead.
Who's the Real Loser in Life?
The real loser in life constantly underestimates others' successes, is jealous of everyone else, and hates people because of their achievements. If you're spending your mental energy to spread negativity, you're a failure.
Take the Test and Try Not to Win
If you still have the big question of "Am I a loser?" give our quiz a try. It can help you get your head around the idea of winning and losing in life. And it's designed to provide a new perspective of success and achievement.
Disclaimer
QuizExpo does not label any of the participants of the test as losers. The questionnaire is meant to assist those who overthink their status to overcome their stress and understand why they feel insecure about their lives.
How to Play?
Playing personality quizzes is straightforward: Choose the option that's true about you—or you relate to—and select "Next." Unlike trivia quizzes, personality tests have no right or wrong answers. But the questions are in forced-choice format. The point is to push you to choose an option that makes the most sense, not the one that's 100% true. For the most accurate results, don't overthink your responses. Go with options that you "feel" are the best.
How many questions does this quiz have?
20 questions
How long does it take to complete this quiz?
6 minutes
Questions of the quiz
Question 1

What's your life goal?

Enjoy every second of being alive

Feeling happy again

Becoming a reliable person

I have no goals

Question 2

How do you feel, or what do you do when your friend is sad?

I ask them to be strong

I feel guilty and sad

I usually don't know what to do

I don't really care

Question 3

Do you think agreeing to whatever your loved ones say is a love language?

No

I'm not sure

Yes, I think it is

I never agree t what others say

Question 4

How often do you say "No" without overthinking the consequences?

It depends

Rarely

I don't know

Always

Question 5

Who comes first in your life?

Family and friends

No one

Everyone

Only me

Question 6

How likely do you think you are to become successful in life?

Equal to that of others

I have no chance

I don't know. And it scares me

I'm better than everyone else. So…

Question 7

Do you think that you deserve happiness?

I think so

Not really

I don't think so

I do, but many others don't

Question 8

How easy is it for you to do something without worrying about what others will think of you?

It's pretty easy

I'm already numb to comments

It's nearly impossible

I don't give an F about others

Question 9

What do you feel when someone else achieves something important?

Happy for them

I feel numb/indifferent

I feel like I'm worthless

I feel jealous and angry

Question 10

Do you think others' success affects your life negatively?

Not at all

I don't think so

I'm not sure

Yes, it does

Question 11

Have you ever felt like people don't deserve what they achieve?

No, never

Sometimes, yes

Maybe. But it'd be rare

Yes, all the time

Question 12

Who is a successful person in your eye?

One who's happy with their life

One who has no regrets

Confident one

One who's better than anyone else

Question 13

Which one is the most evident sign of being a loser?

Complaining about everything

Begging for attention

Having no self-confidence

Praising and complimenting others

Question 14

Do you believe it when people compliment you?

Most of the time

Sometimes

Rarely

No, compliments are always fake

Question 15

What's the worst thing about feeling like you're a loser?

It kills your vibe

It makes you feel empty

It makes you feel miserable

It reveals your pathetic side

Question 16

On a scale of 0 to 10, how jealous are you of others' success in life? (10 means super-jealous).

Question 17

Do you think losers don't deserve to live a happy life?

No, everyone deserves it

I don't really care

I'm not sure

Yes, they don't deserve it

Question 18

Which one could turn you into a loser?

Giving up on my dreams

Letting my emotions overcome me

Believing the fact that I'm worthless

Not being able to beat my competitors

Question 19

What are you stressed about the most?

Career

Education

Relationships

Falling behind the competition

Question 20

Final question; what made you take a quiz to see if you're a loser?

It was for fun

I wanted to see the results

Someone told me I'm a loser

I wanted to make sure I'm a winner