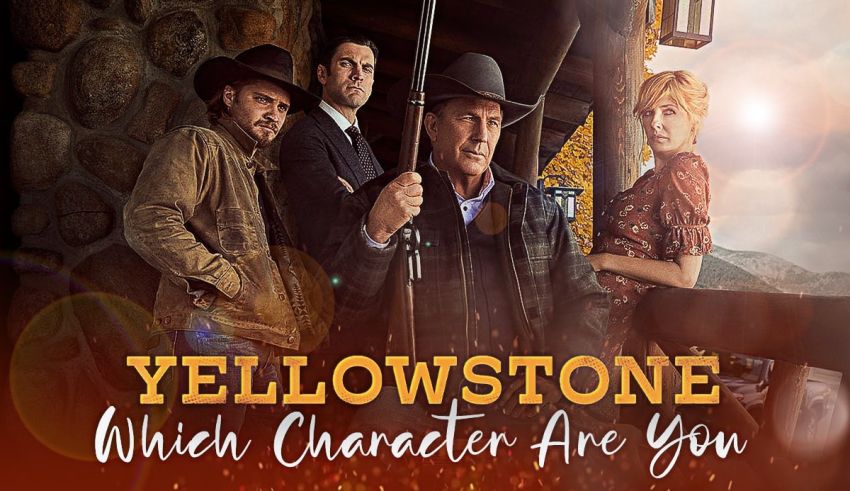 This personality quiz helps your find out which Yellowstone character you are. Just answer 20 questions about the series and yourself to find out.
TV Shows are one of the biggest forms of entertainment ever, and every year there are hundreds of them are streamed on various channels. One of these tv shows is Yellowstone which is a masterpiece in the Western genre.
One of the reasons that Yellowstone got massive attention and popularity is because of its characters. The creators of the show were able to write some good protagonists and antagonists. And if you are here, it means that you already watched the show and want to know which Yellowstone character you are. So stick with us in this Yellowstone Quiz to figure it out.
Yellowstone Personality Quiz
In this Yellowstone Quiz, you are about to find out which of these 6 characters is closer to your personality. You could be one of John Dutton, Kacey Dutton, Beth Dutton, Lee Dutton, Rip Wheeler, and Jamie Dutton.
Each character has some personality key elements that you may share with, and each one you share the most personality key elements could be you. Now, let's talk about which Yellowstone character you are.
The Creation of Yellowstone
This series has been created by the amazing Taylor Sheridan. This guy previously brought some amazing movies like Hell or High Water and Sicario, both of which had some Western genre elements to them.
He managed to pull some amazing plot in this series. Although the series didn't get attention at first, it become better and better with each season, and more people got drawn to this series.
Although the main population reason for this series is because of its amazing drama storyline and hitting the viewers with some amazing plot twists, which gathered with some perfection that has been seen less recently in the TV Series industry.
It reminds us of Breaking Bad which got its population like this, and people, at first, weren't noticing BB enough.
Plot
The story of this series goes on in the Montana region, where the Dutton family runs everything in this town and is considered to be the elder of this region. They have a ranch called Yellowstone, which is run by John Dutton III (played by Kevin Costner), who is the eldest member of the Dutton family.
Although they are running everything in the city, they have some enemies, challenges, and trespassers, and they have to constantly deal with them. But the story is close to many other Western genre stories. John Dutton doesn't want to give up his ranch, and the world is progressing to the modern world he doesn't want his ranch and his family to participate in it, and he doesn't care about anything than that.
Main Characters
John
When we are talking about Yellowstone characters, the creators were able to show a variety of personalities in some perfect fashion. The main characters, except for the eldest one who would be John Dutton, are his children who help him to run the ranch and Montreal.
Lee
Lee Dutton is the oldest son and is considered to be the heir to John's throne, and he was raised well in the eyes of John. because, like john, he does anything for the ranch and always puts the benefit of the ranch and family as his top priorities.
Kacey
‌Kacey Dutton is one of John's sons and is one of the most sensitive Duttons of all. He has a wife and child with the name of Monica and Tate. although he has some issues with his family, he takes care of business but always watches after his wife and son.
Beth
Beth Dutton is the only daughter of John, and she knows how to handle business. Like Lee, she only cares for the well-being of her family and the ranch, and with all the tough acts, she takes care of challenges.
Jamie
Jamie Dutton is also a son of John, but he has a different vision than his family. He is a lawyer but wants to be the general attorney and be away with the cowboy life and ranch. However, he has a secret that separates him from other members of the family.
Rip
Rip Wheeler is not a member of the Dutton family, but he serves under their commands, and he also is a lover of Beth. He put his life in danger when it comes to the safety of John's family and saving the ranch from trespassers, and he also really handles everything with perfection.
It's time for the Yellowstone quiz now. Which one of these characters do you think you are?
Questions of the quiz
Question 1

Are you a responsible person?

Yes, so much

Yes, I think I am

Not that much

I'm not a responsible person at all

Question 2

How do you react to changes?

I don't like changes at all

I'm not that open to them

I Get along I guess

I always looking forward to changes

Question 3

Do you sacrifice your life for your loved ones?

Yes, I do

Yes, I think so

Not that much

No, I don't

Question 4

If you had the chance, would you continue your family job?

Yes, I would

I think so

I don't think so

No way

Question 5

Do you forget betrayal?

Yes, I do

I Think So

I don't think so

Not at all

Question 6

How much rebellious you are?

So much

A little bit

Barely

I'm not

Question 7

Which one is more important?

Family

Money

Heritage

Self-Success

Question 8

Are you an emotional person?

Yes, very much

Yes, I little bit

Not much

Not at all

Question 9

Are you cool with the concept of revenge?

Yes, I am

I think so

I don't think so

Not at all

Question 10

Can you handle hard challenges?

Yes, definitely

I think so

I don't think so

Not at all

Question 11

Do you have a dark side?

Yes, I have

I think so

I don't think so

Not at all

Question 12

If you had to, would you kill somebody?

Yes, I would

I think so

I don't think so

Not at all

Question 13

Do you pick results by clues?

Yes, I do

I think so

I don't think so

Not at all

Question 14

Do you stand up for your weaker friends?

Yes, I do

I think so

I don't think so

Not at all

Question 15

How do you handle trespassers in your house?

I kill'em

I hurt'em

I deal with them the hard way

I let them go

Question 16

Which one of these colours do you like?

Question 17

Which one describes you better?

Tough

Bully

Smart

Hard Worker

Question 18

Which job do you like more?

CEO

Sheriff

Lawyer

Bodyguard

Question 19

Do you like horse riding?

Yes, so much

I think so

I don't think so

Not at all

Question 20

Do you help strangers?

Yes, I do

I think so

I don't think so

Not at all