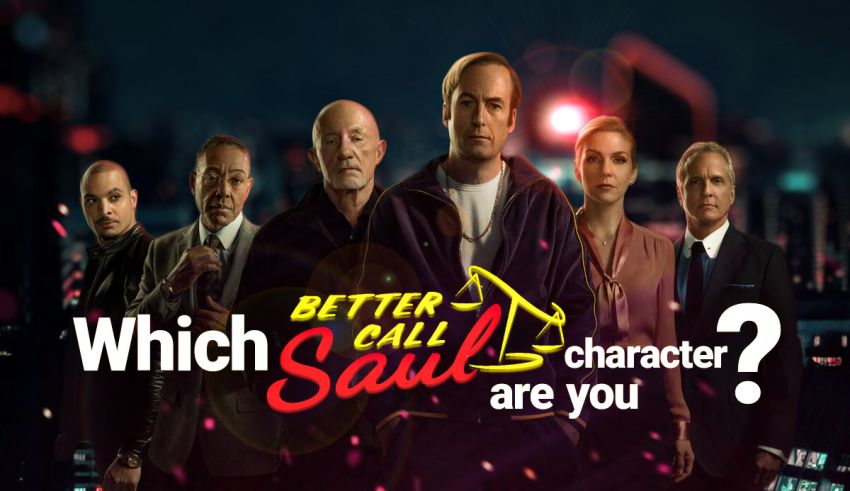 Aren't you curious to know which Better Call Saul character you are? This personality quiz reveals whether you are Jimmy, Kim, Mike, Gustavo, Howard, etc.
Better Call Saul Quiz Explained
It's a questionnaire inspired by the AMC's Better Call Saul's events to match your character to one of the show's protagonists or antagonists.
Similar to other viral quizzes like the Euphoria character quiz, it also includes a persona analysis, explaining why you matched a particular personality.
Discover your "Saul" mate.
The beloved Breaking Bad spin-off has introduced so many memorable characters. And it's not easy for fans to figure out which one they represent in real life. But that shouldn't be a concern anymore as the Better Call Saul quiz handles it.
Answering twenty simple questions on this page could reveal which BCS character you are. We've created detailed profiles of all the main cast and will compare them to yours to generate reliable results.
Get a personality analysis.
It's not solely about which Better Call Saul character you are—it's also about who you really are. The quiz contains a low-key personality analyzer like a mini-MBTI or Enneagram test. So, it can identify your personality type as well.
Face your Dark Core.
The thing about Better Call Saul is that its characters are grey. You cannot find a generic, heroic, and all-virtuous person in the plot. That made us think how YOUR dark core could be compared to Vince Gilligan's fictional people. Are you a super-evil-ish person or just an occasional baddie? We'll find out.
Season 6 Finale Special Edition Quiz (with a Twist)
Unfortunately, Better Call Saul comes to an end with its 6th and final season. But two of the most treasured characters from Breaking Bad, Mr. White, and Jesse, hop on the show to make the ending glorious. And that encouraged us to add a plot twist to our personality quiz.
What if you could match Breaking Bad characters, too? You read it right. Our Better Call Saul Quiz might match your character to Heisenberg or Pinkman.
How to Know Which Better Caul Saul Character You Are
Some folks don't like tests, which is fine. But here's what to do if you're one of them and still want to find your "Saul mate." Read the personality breakdown of each character and see which one you relate to the most.
It's not a precise method. But you pretty much don't have any other options.
#1. Jimmy McGill
Personality-wise, Jimmy or Saul Goodman is not an average protagonist. He's intelligent, cunning, manipulative, and a total conman. Throughout the show, he also reveals his caring and loveable sides that separate him from other cruel criminals of Albuquerque.
Most fans would still pick Jimmy despite his mischievous nature when asked, "Which Better Call Saul character you are?"
#2. Mike Ehrmantraut
You could describe him as calm, patient, and formidable. But there's something special about Mike's personality: He's actually kind and caring inside. Although a deadly assassin, Mike does everything in his power to protect his family and friends.
#3. Kim Wexler
A loyal wife, a clever lawyer, and a fearless woman. Kim's personality is a manifestation of independence and growth. She's also a natural negotiator, using her communication skills to save both her husband and clients' butts when things go wrong.
#4. Howard Hamlin
Not many people would pick Howard if a poll asked fans, "Which Better Call Saul character you are?" He is an arrogant, strict, and cruel boss with no mercy for his employees. Although a professional, successful lawyer, Howard is an unpopular personality in the show.
#5. Gustavo Fring
Since his Breaking Bad debut, Gustavo's paradoxical personality has gained fans' love. He's the definition of being a two-faced person as he runs a drug cartel in the shadows while living a normal life as a role model citizen. Personality-wise, Gustavo is a sociopath who is also quite picky and cautious.
| | |
| --- | --- |
| Character | Personality Type |
| Jimmy McGill | ESFP |
| Mike Ehrmantraut | ISFJ |
| Kim Wexler | ISTP |
| Chuck McGill | ESTJ |
| Howard Hamlin | ENTJ |
| Gustavo Fring | INTJ |
| Nacho Varga | ENTP |
| Tuco Salamanca | ESTP |
| Hector Salamanca | INTP |
Other Better Call Saul characters.
The show has over 50 characters—eight of them forming the main cast. So, it could get quite confusing for you to decide which Better Call Saul persona you have. If you're overwhelmed by that number, just take the quiz and let us do the hard work. It's our job to find your perfect match, and we do that with unbelievable accuracy.
Ready to Lawyer Up? Because You're Going to Need One
"What's the difference between a tick and a lawyer? The tick falls off when you're dead!" said the infamous Jimmy McGill. But what about you? Are you the tick or the lawyer? Based on your traits, decisions, and even appearance, let's find out what type of Better Call Saul character you are.
Unlike most other stupid personality quizzes that hit you with, "What's your favorite color?" we ask you real-deal questions. As a BCS or Breaking Bad fan, we ensure that you will enjoy and relate to every question—because we're fans of the show, too.
Give it a try. You won't regret it.
Disclaimer
QuizExpo does not own any of the images used in the 'Which Better Call Saul Character You Are Quiz.' AMC owns the rights to all the said pictures, and no copyright infringement is intended.
Questions of the quiz
Question 1

Which of the Better Call Saul criminals deserved better faith?

Nacho Varga

Gale Boetticher

Gus Fring

Tuco Salamanca

Hector Salamanca

Sobchak

Question 2

What makes Jimmy (Saul Goodman) a good lawyer?

His ambition

His cleverness

His manipulativeness

His lack of morals

His stupidity

He's not a good lawyer

Question 3

What would you do if you found out that someone was about to snitch on you?

I'd ask for a friend's help

I'd blackmail them

I'd use them to my advantage

I'd get rid of them

I'd hurt their loved ones

I'd pay someone to make them vanish

Question 4

How do you feel about people who work with cops?

Nothing specific

I like them

I admire them

I don't like them

I pity them

I despise them

Question 5

A Mexican drug cartel leader wants to talk to you. What do you do?

I don't know what to do

I set a meeting in a public place

I say yes, sure

It depends on the matter

I say no, and call the authorities

I invite them to my house and cook for them

Question 6

You found a million dollars in cash in the backyard of your house. What's your next move?

I'd call my best friend and ask them to come over.

I'd let it be there until I find a way to spend it

I'd turn it into bitcoin or NFT right away

I'd buy a house for my family

I'd call the authorities

I'd look for the person who put it there

Question 7

What do you think is the best strategy for a criminal to get away with their crimes?

Using surnames

Getting a great lawyer

Never trusting a single soul

Paying others to do the dirty work for you

You can never get away with a crime

Doing lots of charity stuff

Question 8

Which one sounds like a proper way of money laundering?

I don't really know

Buying digital assets

Establishing local businesses

Transferring the money to other countries

There's no proper way to do that

Spending the dirty money through charity activities

Question 9

You have $50K to give to a charity. Which one would you donate it to?

Kids' hospital

Homeless people's charity

It doesn't really matter

I spend the money on my own family

A prestigious charity

Drug Enforcement Administration (DEA)

Question 10

What is your #1 priority in life?

Love

Career

Success

Family

Prestige

Money

Question 11

What makes a person a reliable friend?

Honesty

Smartness

Connections

Loyalty

Respect

Nothing. You'll never have a reliable friend.

Question 12

What kind of career would you like to have if you lived in the Better Call Saul universe?

Teacher

Nurse

Doctor

Police officer

Businessperson

Restaurant owner

Question 13

What do you think of Walter White (aka Heisenberg)?

I love him

I like him

Meh

I respect him

I don't like him

He's overrated

Question 14

Would you help a close friend to get away with a crime?

Maybe

It depends

Only if they pay me

Yes, sure

No, never

I'd call the cops on them

Question 15

Would you ever fall in love with a criminal?

IDK, maybe.

Only if they're really hot

Only if they're super-rich

No, I wouldn't do that

No, I'd call the cops on any criminal

I AM some sort of a criminal. So yeah, sure.

Question 16

Imagine you're a lawyer, and you have to defend an infamous drug dealer. How'd you feel about that?

I'd feel bad about myself

I'd feel fine because it's my job

I'd feel excited and happy

I'd feel numb

I'd be a professional and leave my feelings out the door

I'd feel proud

Question 17

What do you think of Lalo Salamanca's character in Better Call Saul?

I hate him

He's cute

He's dangerous

I respect him

I despise him

I admire him

Question 18

What's a trait that you look for in a romantic partner?

Kindness

Intelligence

Trustworthiness

Loyalty

Prestige

Power

Question 19

Pick your favorite clothing style.

Casual

Formal

Informal

Sports

Classy

None of them

Question 20

Final question; how old were you when the first season of Better Call Saul aired?

16 or younger

17-20

21-25

26-30

31 or older

I'd rather not say