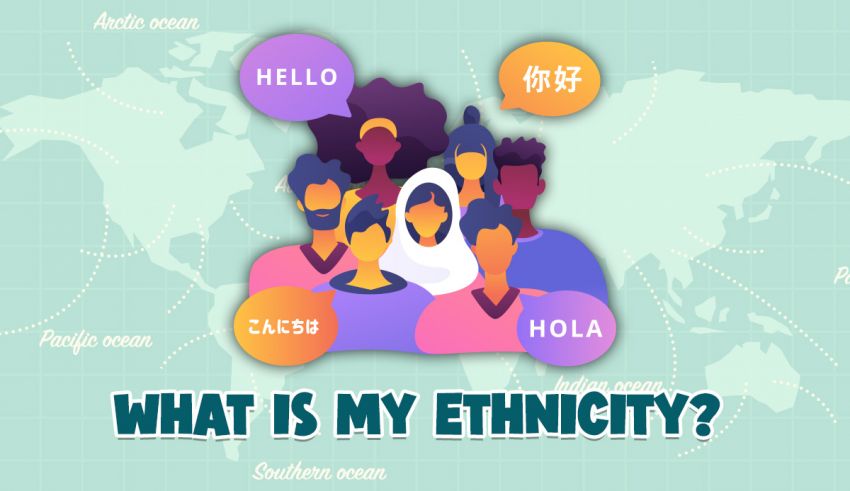 Do you want an answer to "What is my ethnicity?" This 100% accurate quiz determines your ethnic background with 20 respectful and straightforward questions.
Take a Fun Quiz to Find Out Your Ethnicity
The test on this page includes 20 questions about your family background, beliefs, thoughts, and ideologies to determine your ethnicity. The goal is to see how others would guess your ethnic background according to the basic clues you offer.
Things to Know Before Taking the Test
QuizExpo acknowledges that racial and ethnic subjects are sensitive. So, we did our best to answer "what is my ethnicity?" in the most respectful and non-stereotypical way. However, there are things we would like you to know before participating in the test.
Ethnicity Differs from Race
When it comes to race vs. ethnicity, there is a clear line that distinguishes both concepts. Ethnicity is a socially constructed matter to categorize people based on cultural traits that society finds important. But the race is a category based on people's shared biological features such as skin color. You can take our specific quiz if you wonder, "what race am I?" It guesses your racial background through questions about your family ties, appearance, place of birth, etc.
There Is No Way to Categorize People by Their Ethnic Background
Races and ethnicities are fabricated ideas to manipulate power distribution systems. Today, most countries criminalized the use of such information to discriminate or isolate members of societies. So, you should know that you are talking about an outdated topic when asking, "what is my ethnicity?"
Why You Should Stop Asking What Is My Ethnicity
Understandably, some of you might wonder, "what ethnicity am I?" at some point in life. While the Ethnicity Determiner on this page does its best to answer such questions, we would like you to quit thinking about such matters. Here are several reasons to stop asking ethnicity-related questions as soon as possible.
Ethnic Categorizations Lead to Prejudice
A rigid and unfair generalization about an entire category of people is prejudice. In countries like the United States, such beliefs have led to police brutality, racism, and other similar issues. So, when asking, "what is my ethnicity?" you leave the door open for stereotypes, negative assumptions, and biases that cause prejudice in society.
Some Ethnic Groups Are Facing Discrimination
Any unequal treatment of different groups is called discrimination. People who identify themselves by their ethnicities have always been prone to such unfair behavior in societies. For instance, LGBTQ+ communities struggle with many discriminations when it comes to social justice, equal payments, jobs, education, etc. We need to stop asking questions such as what is my ethnicity or what is your ethnic background to minimize the effect of such biases.
Overthinking Ethnicity Causes Implicit Biases
The unconscious preferences and favoritisms that we have about other groups are implicit biases. For example, the surge of Asian crime hates after the pandemic shows how such stereotypical beliefs can damage a minority group in society. Questions such as "what is my ethnicity?" might seem innocent on the outside. But overthinking and emphasizing such concepts lead to more conscious and subconscious prejudice.
Race and Ethnicities Are Socially Constructed Matters
Both concepts have been generated to justify criminal and unfair behaviors towards certain groups of people throughout history. For example, "Jewish" is an ethnicity in the United States. However, most European countries use the term "Jewish" to refer to a racial group. So, you should know that the definitions and categorizations are shallow and unclear.
How Can a Test Guess Your Ethnicity?
The What Is My Ethnicity quiz is a self-report type of questionary. We ask you questions about your beliefs, religion, family background, political ideologies, etc., to determine your ethnic group. However, the results depend on your answers and the way you describe yourself. While we do our best to provide you with the most accurate results, there is no online ethnicity test with 100% accurate answers. The reason is that categorizing people by their origins or cultural norms is a sensitive and difficult matter.
Is It Legal to Ask About Someone's Ethnicity?
According to the official website of the US justice system, "Federal laws prohibit discrimination based on a person's national origin, race, color, religion, disability, sex, and familial status." So, it is illegal to ask about someone's cultural background to discriminate against them.
Disclaimer
QuizExpo respects all the What Is My Ethnicity Quiz for their personality—not their cultural beliefs or norms. While we appreciate all ethnic groups, we would like you to know that QuizExpo is against any favoritism or prejudice against a specific group. Please, contact us if you find any part of the test to be inappropriate, disrespectful, or harmful for whatsoever reason.
Questions of the quiz
Question 1

Fill in the blank. I have at least one relative from a _______ country.

American

Asian

Latin or Spanish

African

Other

Question 2

My grandparents were born in a _______________ country.

American

Asian

Latino or Spanish

African

Other

Question 3

My parents spent most of their ______ in the US.

Life

Adulthood

Elderly life

Youth

"they did not live in the US."

Question 4

I have at least one close relative whose skin color is ________.

White

Non-White

Light dark

Dark or Black

Other

Question 5

I know where my ancestors are from. They are from ____________.

America/Europe

Asia

Spain/Latin countries

Africa

Other

Question 6

My skin color can be described as ____________.

White

Almost white

Non-white

Black

Other

Question 7

I do have relatives who live in another country. Most of them live in __________.

The US

Asian countries

Spanish or Latin countries

African countries

Other countries

Question 8

I have been living in the US for ______________.

My whole life

For most of my life

The past couple of years

As long as I remember

"I don't live in the US."

Question 9

People always confuse me with a __________ person.

European

Turkic/Arab

Mexican

Black

"they don't confuse me."

Question 10

I feel less privileged in this country. My score for the justice system is ____ out of 10.

Question 11

The most iconic physical feature I have is my __________.

Hair

Eyes

Face

Skin color

I don't know

Question 12

It is ___________ for others to ask about my ethnic group.

Not often

Somewhat often

Habitual

Rare

Unlikely

Question 13

I feel like the police treat me ___________ because of my appearance.

Fairly

Differently

Suspiciously

Unfairly

Normal

Question 14

I can speak another language. My second language is __________.

Spanish

Arabic/Chinees (other Asian languages)

Latino

An African language

Other

Question 15

I know at least one person in my relatives who can speak a foreign language. And their second language is ________.

Spanish/Italian

Arabic/Chinees (other Asian languages)

Latino

An African language

Other

Question 16

One of the religions I know a lot about is ___________.

Christianity

Islam

Catholic

Baptist

Other

Question 17

My parents are ___________,

Christian

Muslim

Catholic

Baptist

Other/Atheist

Question 18

My religion is ________.

Christian

Muslim

Catholic

Baptist

Other/Atheist

Question 19

There are _________ people like me in this country.

Millions of

A lot of

Not many

So many

"Everyone is like me."

Question 20

Final question, what is your own opinion about your ethnicity?

American

Asian

Latino or Hispanic

African-American