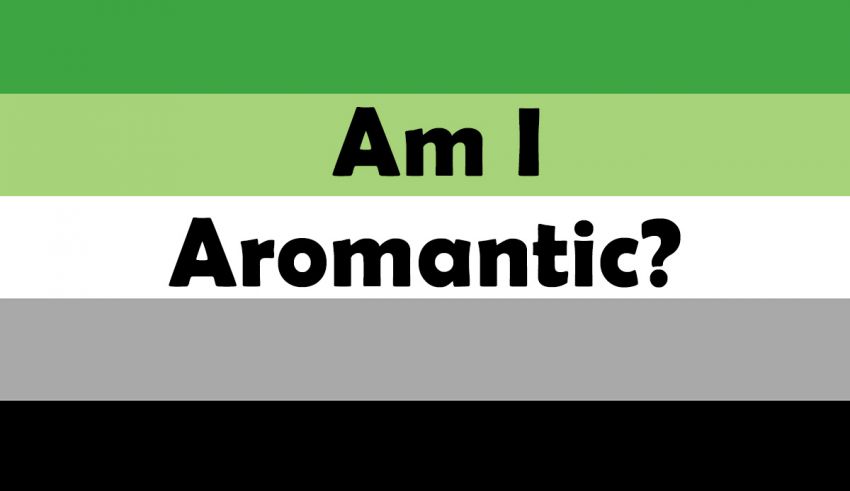 If you ask yourself, am I aromantic? This quiz has an accurate and honest answer for you. Just answer 20 simple questions to reveal your attraction.
Aromanticism Definition
A person with a romantic orientation opposing aromatic behaviors is an Aromantic. Such an individual does not desire romance as others might. Usually, an Aro feels little to no romantic love towards others while they might still experience other types of attraction, such as the sexual one.
Aro VS. Ace
The term Aro refers to someone's romantic orientation. That is while Ace is a term to describe a certain sexual orientation.
You identify yourself as both an Aro and Ace, called "Ace Aro." And it would mean you do not desire romance and sex. However, the said terms are NOT interchangeable. An Aromantic might still be sexually active. And an Asexual might still feel the need to get into a romantic relationship.
If you are confused about the two terms, please consider taking the 'Am I Asexual Quiz' on our website. It can help you figure out what your love- and sex-related orientations are.
How to Know if I am Aromantic?
The most convenient and fast way to find out is by taking a reliable quiz. The Aromanticism test on this page can identify whether or not you fall into this category. It also discovers your exact orientation type as "Aromantic" is an umbrella term to describe many queer preferences.
However, if you are not up for an online quiz and you still want to explore your nature, look for the signs. More on this below.
Aromantic Flags or Signs of Being an Aro
It might sound easy to find out if someone is an Aro. However, many people ask themselves, "Am I Aromantic?" all the time without getting a genuine answer. So, here are a few signs to look for when wondering if you cannot get along with romance at all.
Mixed feelings about romanticism.
Many Aro community members claim to have blended emotions about romance in general. That is because society claims that romantic love is the ultimate type of affection. And most people seem to be craving such relationships—and even whining about not having them like, will I ever find love? So, such ideas sometimes baffle Aromantics, especially before coming out.
Little or no desire for romantic love.
An Aro individual does not feel like romance is an essential part of their life. And it is not because "they did not meet the right person" or they are traumatic. It is just the way they feel about love as a common concept.
Preferring other types of relationships over romantic ones.
It is common for an Aromantic person to be in relationships that are not necessarily romance-oriented. They still love others. But their affairs benefit from other types of attraction, such as platonic, friendly, sexual, or even aesthetic.
Aromantic Spectrum and What Falls Under It
Being an Aro has different forms. Not everyone experiences Aromanticism the same way. Below you see the brief description of sub-labels used in the community to refer to specific Aromantic identities.
· Greyromantic
A person with Greyromantic orientation rarely experiences any romance-related relationship. So, it is similar to the definition of Greysexuality, where the person seldomly needs sex.
· Demiromantic
A Demiromantic person needs to feel a strong connection to someone to grow romantic feelings for them. Such individuals are functionally Aromantic before they build up trust and bond with someone.
· Lithromantic
Lithromantic people find it hard to answer the big question, "Am I Aromantic?" That is because they know how it is to be in a romantic affair. And they might even enjoy the idea. But the thing is that they want to remain in their imagination. So, Lithromantics never actually want to experience romance in real life.
· Aroflux
You are an Aroflux if your feelings toward love and romance usually change—but they always remain in the Aromanticism spectrum. So, your preference may change, but it is still in the Aro family. For instance, you identified yourself as a Lithromantic. But you recently feel like you could be a Demiromantic, whereas you used to believe you are a Greyromantic a couple of years ago.
Things to Know Before Asking, Am I Aromantic?
The quiz on this page answers any questions like, "Am I an Aro?" or "Am I a Greyromantic?" However, we would like you to know a couple of things before participating in the test.
Being an Aro Does Not interfere with Having Healthy Relationships
A misconception in societies is that Aro people do not feel love, and they are robot-like creatures. But that is not true. Being an Aromantic differs from being a psychopath and feeling absolutely nothing!
You do not need romance to feel love. Think about your feelings towards your parents. Do you have a thing for them? Of course, not. But you still value them and enjoy being with them. The same is true for an Aro. They have all the feelings in the world. So, they can still bond with others without necessarily asking for anything romantic.
Not Everyone in the Community Is an Ace Aro
Another myth revolving around Aromanticism is that Aros cannot have sex. But that is not true at all. Many individuals who identify themselves as Aromantic participate in sexual activities like others—and they enjoy it. However, you might come across some people who identify themselves both as an Asexual and an Aro. That means they do not like either romance or sex.
You Might Still Feel and Enjoy Other Types of Attractions
If you are an Aro, it does not mean you are a robot. Other types of attractions such as physical, sexual, aesthetic, and even sensual might still be a thing for you. It is rare for Aromantics to have a crush on someone. But they do have squishes on other people. Squish refers to a platonic type of admiration towards a person—without the desire to be with them or have them in your life (romantically).
Take the Quiz if You Are Confused and Need Help
Our quiz is 100% reliable when it comes to solving the big problem of 'Am I Aromantic?' So, give it a try if you are baffled by all the information online and just need a solid answer. (The results are private, and QuizExpo does not restore any of your data).
How to Play?
Playing personality quizzes is straightforward: Choose the option that's true about you—or you relate to—and select "Next." Unlike trivia quizzes, personality tests have no right or wrong answers. But the questions are in forced-choice format. The point is to push you to choose an option that makes the most sense, not the one that's 100% true. For the most accurate results, don't overthink your responses. Go with options that you "feel" are the best.
Questions of the quiz
Question 1

Do you know how it feels to have a crush on someone?

Question 2

Have you ever fantasized about having a romantic relationship?

Question 3

Do you often think about getting married and having kids?

Question 4

Are you interested in romance-related movies, stories, and poems?

Question 5

Have you ever fell in love with a total stranger?

Question 6

Do you believe in love at first sight?

Question 7

Some people fall in love and get married the next day. Do you find it weird?

Question 8

Do you think love is essential for marriage?

Question 9

Do you agree that marriage could be like a contract signed between two individuals?

Question 10

Is your love life separated from your sex life?

Question 11

Do you feel like you might be incomplete if you don't find true love?

Question 12

Do you think people should be looking for true love no matter what?

Question 13

How romantic are you?

Question 14

Would you like to have a romantic partner?

Question 15

Are you a fan of platonic relationships?

Question 16

Is love a foggy and abstract concept?

Question 17

"You know you're in love when you can't fall asleep because reality is finally better than your dreams." Do you agree?

Question 18

Have you ever felt like you cannot live without your lover or partner?

Question 19

Some people commit suicide when their lovers leave them. How do you feel about that?

Question 20

You have two options, true love or $100,000. Which one do you choose?

True Love

Not Sure

$100,000