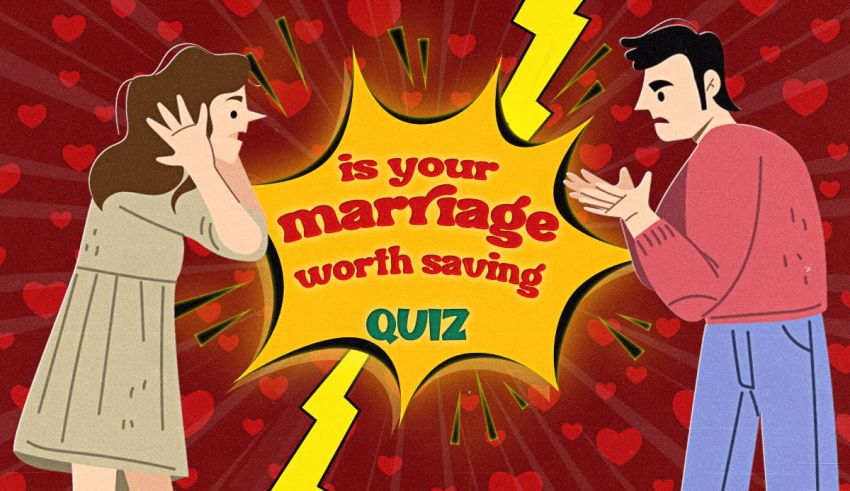 This quiz is going to analyze 20 factors and suggest if your marriage is worth saving or not. Maybe it is not the time, even if it seems impossible.
Every Stage of a Dying Marriage
Marriage is a hell of a journey. You really can't predict whether it's going to be a successful one or it's going to be a failure. All the things you have in a marriage are yourself and your partner. But sometimes, it doesn't work out for you and your marriage as you wish, and that is when you should ask yourself, is your marriage worth saving?
Signs of a marriage that cannot be saved may not be so visible to the people in a relationship. Still, it will become more apparent every day for people around that relationship; the funny thing is, they get to know that their marriage is dying as the last person.
When you start to lose interest in your partner, is just about time that this happens if you don't do anything about it. Even if you have a child, you should expect him to become a child of divorce.
Losing Feeling
But if you look closer at your marriage, you may understand what state you both are in. First, you both get colder to each other and start to pay less attention to each other, and you won't understand what both of you are going through. You no longer catch the little details like in the past, and you let this become a familiar feeling.
Fighting all the time
One thing that shows that your marriage can't work is the possible anger between the couples. When you start arguing and fighting all the time, you may say a lot of ugly things to each other that may seem ordinary, but it will leave a wound on your soul.
Not sharing memories anymore is another thing that makes you worry about your marriage. If you can't make memories with each other, then your future is in great danger.
Bad sexual Life
In a very more obvious stage, your sexual life gets boring, and even it'll disappear. As time goes by, you notice that you're not attracted to each other anymore, and the worst stage is that you start picturing yourself with another human being.
The worst part is you or your partner or even both of you start cheating on each other, and unfortunately, a lot of people think that if they cheat on their partner, they may get to save the marriage with secrecy.
Therapy doesn't work?
You should always see a future with your partner, and that's what matters the most. If you can't see any future with each other, then you should know it's about time before you decide to get a divorce. But How to save your marriage when it seems impossible?
Let's be honest, Is Your Marriage Worth Saving?
There are some things you can do to save your marriage after all. Sometimes it seems impossible, but all you have to do is take the right steps in the right direction, and it will become more clear to you what you can do about it.
All these things, in the end, make you think should I get a divorce? These thoughts are normal, and everyone has the decision to make for the better future that they hope for.
Some people decide to get a divorce, but some people have regretted it, and they are always wondering and asking themselves: Should I get back with my ex? Or, even more desperately want to know and ask themselves: Will we get back together?
These wonders and desperations are because, in the end, you weren't really sure of getting a divorce, and you had the wrong signs, to begin with. But in this quiz, we make sure that you definitely know if your marriage is worth saving and what are the right steps to save your marriage even when it seems impossible.
Remember to answer all the questions with honesty, and you will get your golden answer. Good luck with the quiz.
How to Play?
Playing personality quizzes is straightforward: Choose the option that's true about you—or you relate to—and select "Next." Unlike trivia quizzes, personality tests have no right or wrong answers. But the questions are in forced-choice format. The point is to push you to choose an option that makes the most sense, not the one that's 100% true. For the most accurate results, don't overthink your responses. Go with options that you "feel" are the best.
Questions of the quiz
1

Did you ever think about getting divorce?

Yes, everyday

No, I don't think so

Yes, but not much

No, it kills me to think about it

2

If you had the chance, would you cheat on your partner?

No, Never

I don't know, maybe

Yes, in the first chance I get

I want to, but I don't think I can

3

If you fight, what state do your arguments have?

It's a lot of shouting and swearing

It's just a simple argue

We don't fight

Sometimes it's gotten physical

4

How is your sex life?

It's good, we regularly do it

It's not bad

We don't sleep with each other anymore

We do it very barely

5

How do you feel about your partner's family?

They are lovely

I rather not see them

I can't stand them

I'm ok with them

6

Does your partner still flatter you?

I don't remember the last time

Barely

Yes, but not as much as before

Yes, very much

7

Do you think that your partner is your best friend?

Once I did, not any more though

Yes, I still think this way

No, I don't think that

Yes, but I think it became less

8

If you have children, how do you feel about him/her becoming a child of divorce?

I don't have children

I don't want him/her to become one

I don't care, I want to get divorce

I think he/she will be fine with it

9

Do you still love your partner?

I still love him/her very much

I love him/her but not like before

I lost my love for him/her

I never loved him/her

10

Say you got divorced, what is your plan next?

I don't have any plan

I want to take a break and grief

I want to start a relationship fast

I don't know and just want a way out

11

Do you feel comfortable around your partner?

Yes, I do

Not as comfortable as before

Not much

No, I don't

12

Do you talk with your partner regularly?

Yes, we do

We talk much less than before

We barely talk

We don't talk at all

13

Did you go to couple's therapy?

Yes, we are going on routine

Yes, but only couple of times

I'm trying to convince my partner

No, I don't believe in therapy

14

Did you thought you were finally end up getting divorce?

No, I never though this

No, maybe ...

Only couple of times

I knew from long before

15

How do you describe your marriage?

Adventures

Full of love

Boring

Hateful

16

Do you worry that your partner cheats you?

No, I'm sure he'll be faithful

I don't really know

Yes, a little bit

I don't trust him/her a bit

17

Is anybody jealous of your marriage?

Yes, many people say it to me

Yes, I get the feelings sometimes

No, I don't think so

No, why should anyone be?

18

Do you have your own private space in your marriage?

Yes, he/she is considerate of my personal space

Yes, I mean kind of

I don't see him/her trying

Not at all

19

Does your partner support your decisions?

Yes, he/she does

he/she do it sometimes

She/he barely supports me

She/he always undermines me

20

Do you want to experience first date with your partner one more time?

Yes, it was lovely

Yes, I want to

I don't know

Never ever